Obama's Problem: No Mas!
The Obama administration and the Democrats have a problem: they are busy importing millions of foreigners from cultures that like big government, so the new immigrants will be inclined toward the beliefs of liberals. Pew research has found that hispanics, unlike traditional Americans, prefer larger government with more taxes, and do so for generations. That makes them fine foot soldiers for the cultural transformation of America that Dems have in mind. Decades of liberal propaganda in media and schools have not succeeded in killing off traditional American beliefs, so the importation of alien cultures en masse is vital to the project.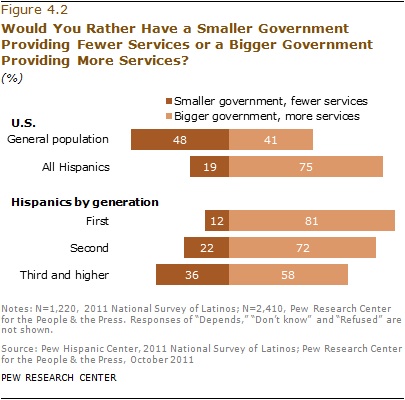 But those additional millions of humans need lots more infrastructure to keep up the normal first-world standards to which citizens are accustomed. America's rapid population growth requires major investment in power plants, oil refineries and such, but it hasn't been happening to the degree necessary because of increased environmental regulation designed to retard the building of energy-production facilities.
Obama & company have tried to pile in millions more of their kind of people on the cheap, without providing for them. Plus, the normal increase of population (non-immigration) has been ignored as well, because those in power now think they can regulate a perfect green energy system into existence, without considering the consequences. Doubtless the Obama-shielding media won't explain this failure either.
Trackbacks